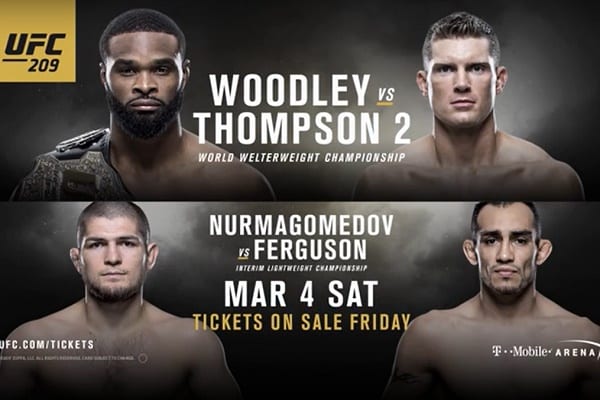 Watch UFC 209 Woodley vs Thompson 2 3/4/17 – 4th March 2017 Full Show Online
Watch Dailymotion 720p
Part 1  Part 2  Part 3   Part 4  Part 5
Watch UFC 209 Woodley vs Thompson 2
Preview:  UFC  Welterweight champ Tyron Woodley and Stephen "Wonderboy" Thompson will scrap it out for a second time in four months after battling to a majority draw in November. The two have traded verbal jabs back and forth and seem amped for Saturday's main event.
Meanwhile, Rashad Evans is set to make his debut at middleweight after having his fight at UFC 205 canceled with the New York State Athletic Commission refusing to give him a license. Now, he will face Daniel Kelly. Plus, a fight many didn't think would happen, Alistair Overeem vs. Mark Hunt is set in the heavyweight division.
Stats?
Date: March 04, 2016.
Main card:
Odds: Brock Lesnar +150 Mark Hunt -170
Saturday 11.02.2016 at 10:00 PM ET
U.S. Broadcast: Pay Per View | Prelims: Fox Sports 1
Promotion: Ultimate Fighting Championship
Ownership: Zuffa, LLC
Venue: T-Mobile Arena
Location: Las Vegas, Nevada, United States
Enclosure: Octagon
TV Announcers: Mike Goldberg, Joe Rogan
Ring Announcer: Bruce Buffer
Post-Fight Interviews: Joe Rogan
Number of MMA Bouts: 12